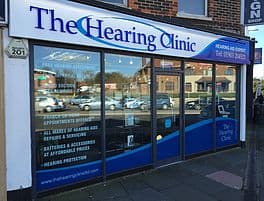 The Hearing Clinic provides digital hearing aid devices from the top hearing aid manufacturers from around the world. We strive to provide you with a premier selection of the latest technology from the best hearing aid brands at very attractive prices. We offer a free no obligation hearing test. The Hearing Clinic allows you the opportunity to talk informally to a qualified Hearing Aid Audiologist in order to get the best ADVICE without any obligation. We have Hearing Aid Audiologists on call from 8am to 8pm every day of the week. FREE PHONE 0800 0599018
The Hearing Clinic simplifies hearing care by providing easy access to Qualified Hearing Aid Audiologists in your area. As independent hearing aid Audiologists we are able to offer the widest selection of competitively priced hearing aids, and guide you toward the right solution. The Hearing Clinic will be able to put you in touch with an Audiologist in locations throughout the country – ready to serve your needs.


"The professional, friendly and honest service cannot be bettered"
Dear Marianne Williams,
I am writing to thank you for the exceptional service we received from the Hearing Clinic. We were delighted by the professionalism, the time and effort devoted to us and the care and attention to detail not to mention the friendly and relaxing atmosphere created.
the effort devoted to our difficult circumstances far exceeded our expectations. It would have been so easy to give up at the first obstacle, or to propose a compromise solution, but instead with much patience and determination a professional conclusion was reached. I would thoroughly recommend the Hearing Clinic to everyone, the professional, friendly and honest service cannot be bettered.
Yours sincerely,
Keith Micklewright
Visit The Hearing Clinic



Widex Clear 440s at home
Buying a new hearing aid can be a worrying experience but not when you deal with Graham Fiddes and Marianne Williams of The Hearing Clinic Ltd.
First and foremost, they come to your home.
Graham's first visit inspired confidence from the word "go". There was no hard sell, just concerned and caring attention to my personal needs, and apart from the reasonable prices quoted, I felt I was in good and capable hands.
As I am still active as a public speaker, the recommended hearing aids are a joy. But it is the free aftercare that is so outstanding. If there is ever an issue, however small, that requires their expertise, one phone call or text message brings Graham or Marianne to my home and the problem is fixed instantly and always with a smile and courtesy that means so much to me in this day and age.
We were once on holiday in Eastbourne and one of my hearing aids needed attention. We were going to the theatre the next day and we were astonished when Marianne came to our hotel to make sure I went to the theatre with both hearing aids in full working order. One cannot ask for more than that and I highly recommend them without reservation or hesitation.
Ann Rachlin MBE
Visit The Hearing Clinic
The Hearing Clinic
7 Downlands Parade
Upper Brighton Road
Worthing
BN14 9JH
Email: thehearingclinicltd@gmail.com
Tel: 01903 204521